GetHairMD™ Clinical Hair Growth Laser
What is the Clinical Hair Growth Laser?
The short answer?

A medical device that produces low-level laser energy, non-invasively, that results in promoting hair growth.
Widely recognized as the most effective, non-surgical way to treat early onset to mid stages of hair loss. GetHairMD™'s Clinical Hair Growth Laser utilizes a very specific laser light spectrum along with a proprietary laser dispersion technology to treat Androgenetic Alopecia, which is male and female pattern hair loss. As well as promote hair growth and improve the overall volume and appearance of hair.
This in-office Clinical Laser has enjoyed a success rate for both males and females of over 90% since being FDA cleared for medical use in 2013. The device is manufactured in the USA, and the quality and quantity of hair growth it has produced for patients has been impressive.
How does the Clinical Hair Growth Laser work?
The short answer? The laser light helps heal the follicle.
Studies show that low level laser therapy is able to:
Increase the production of ATP to energize & repair the weakened follicles
Increase blood micro-circulation to the follicles
Increase the nutrient acquisition by the follicles
Increase oxygen uptake and calcium ion mobilization
Increase the rate of removal of harmful DHT
Decrease follicular inflammation
The increase in cellular activity and removal of harmful DHT allows the weakened follicles to heal and regrow normal, thick, healthy hairs.
Does the Clinical Hair Growth Laser really work?
The short answer? Yes.
This non-invasive device is considered to be the Gold Standard for in-office, medical-grade, clinical strength, laser hair growth therapy devices. It was cleared by the FDA to be both safe and effective.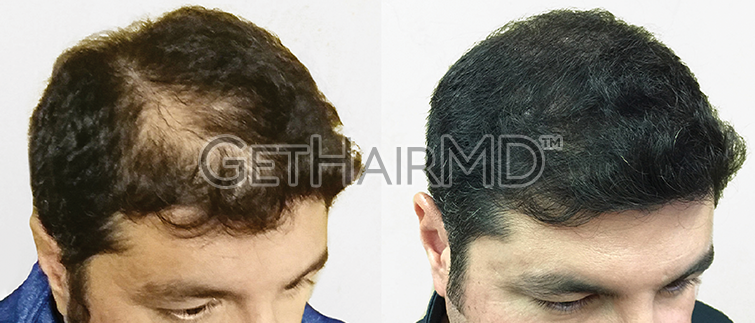 How long until you see results from the Clinical Laser?
There are 3 Stages of results that are commonly observed.
1 – In the First Stage, patients see reduction in excessive hair loss. This happens in 99% of patients.
2 – In the Second Stage, the existing hair gets thicker, fuller, shinier, and healthier as the follicle begins to heal.
3 – In the Third Stage, the miniaturized hairs begin to grow into thick, healthy, normal-sized hairs.
This patient went through all 3 stages in 8 months.
This patient went through all 3 stages in 6 months.
Patients will vary in response time.

The EARLY Responders can successfully move through all 3 stages and see dramatic results as early as 2-3 months into the laser therapy protocol.
The AVERAGE Responders see hair growth around the 6 month mark, which is at the top of the bell curve. This is where the majority of patients see stage 3 results.
The LATE Responders may not experience stage 3 results until as late as 10-11 months after starting treatments. They can move through stages 1 and 2 while stage 3 results take longer.
What's a Clinical Hair Growth Laser treatment like?
The short answer? Easy.

GetHairMD™ has re-imagined the cosmetic hair growth experience – taking it from a tedious medical procedure to a luxurious, self-care ritual.
Each Clinical Hair Growth Laser treatment is 20 minutes in duration. After your Patient Coordinator positions the "cool" laser over your head, you'll have our private treatment suite all to yourself. You can read, talk on the phone, connect to our WIFI to get some work done.
After your appointment, your Patient Care Coordinator will help you schedule your future appointments, and then you'll be on your way!
At certain checkpoints throughout your program, our team will also take milestone before/after pictures to track your hair regrowth progress.
Every time you come in for an appointment, our GetHairMD™ team strives to make your experience as comfortable, convenient, and seamless as possible.